Steve Morgan ashes scattering
Dave Mort has arranged the following:-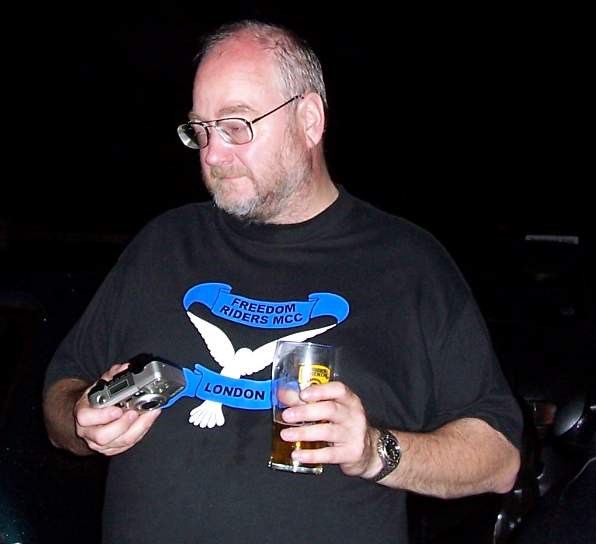 Our 43rd annual Devon meet-up will be over the middle weeks of July this year, with the maximum attendance expected to be between Friday 12th to Monday 15th.

Many of us have already booked accomodation in the
Beesands/Beeson, Stokenham, Chillington, Slapton and Torcross area, not forgetting "Dicks Field" (now renamed "Sugar Park campsite) tel. 07896 160485.

Hopefully the weather will be kind to us, and provide opportunities for a few rides around the local area, and visits to local establishments such as the Cricket, Beesands, Pigs Nose, East Prawle, and the Tower Inn, Slapton etc.

The "Centre of gravity" nowadays for evening get-togethers is the Church House pub in Stokenham, and many of us should already be there by Friday.

As you are probably aware, this year has a particular significance, as we will be scattering the ashes of our friend Steve Morgan (who passed away just before Christmas).

It was his wish to have his remains scattered on the beach in front of the Cricket Inn at Beesands. Having discussed the matter with his sister Jean, we have come up with the following plan.

Jean and family, and everyone attending on MOTORBIKES, will meet up at the Church House pub in Stokenham, ready to depart and "escort" Jeans car to the Cricket Inn at Beesands at 1530hrs on Sat 13th July.

As parking along Beesands seawall is at a premium at this time of year, it is suggested that those travelling in cars park up in plenty of time in Beesands, in order to meet up at the Cricket for the tribute commencing at 1600hrs.

We will endeavour to park our bikes in front of the pub, and gather everyone attending, in front of them for a photo opportunity......Paul
Gilbey is going to organise a professional photographer, or local newspaper to record the event. We will then gather on the beach to scatter Steves ashes, and then drink to him in the Cricket!

Dust off your bikes, old leathers, cut-downs and club T-Shirts to give Steve a decent Bikers final send-off! He was a popular guy, and many of his wider circle of friends are planning to attend, and of course, join us, on the rest of the weekends less poignant activities.

Hopefully we can muster quite a few ex Freedom Riders and friends this year, even some who haven't been down for years?

Dave Mort


Footnote from Jeremy Knight who worked with Steve and read the above:
I worked in Quality at Edwards and shared an office with Steve for some years.

We were very similar in our outlook, interests, politics (yes!) etc. I enjoyed his sense of humour and somewhat cynical outlook on life.

In our respective disciplines we were always fighting for procedures to be followed, standards to be adhered to and so on.

Steve was much respected as a Safety Engineer as he rolled up his sleeves and got involved in the workings of vacuum pumps and took a common-sense approach to hazards and risks rather than just pontificating from an office on what international standards needed to be met.

Mind you, he could pontificate when he wanted to!