Pete Murray (known as Little Pete)
Pete Murray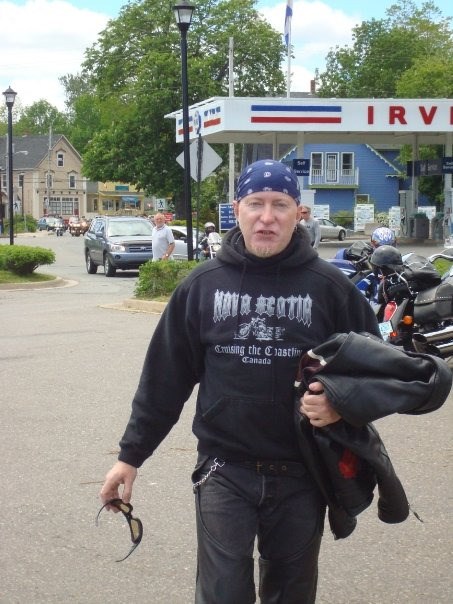 Peter Murray
Nickname
Little Pete
Status
Full Member
E-mail
petermurray46@hotmail.com
Residence
I lived in the heyday of the club in Ruislip Gardens,
South Ruislip, Ealing and Wembley

I now live in Dartmouth Nova Scotia Canada
Family
Living in sin with Marcia since 2000 and have a daughter Zoe


Bike I would be remembered for -

CX500 Custom or the piece of shXt XS250

Favourite bike? Worst bike?
All good
What do I ride/drive now?

V Star 650. Comfortable V twin cruiser; economical;
keeps up well with the fat bulging pig engines of today

My memories of the club
Where to begin....

Summary of my life to date

Moved back to Canada in 1987. Lived in Waterdown Ontario till 2000.
Then Halifax and now Dartmouth NS.

Worked as a bartender, photographer and photo
technician, porter, security guard and am now a bus driver.

My hobbies today are
Video gaming. Being a Dad. Camping. Being by the ocean
At my funeral please arrange to have the following played
Don't know have to think about it.

Washing machines last longer with Calgon
The Freedom Riders MCC of Hayes and Ruislip
This is the Freedom Riders MCC web site. The Freedom Riders MCC has long been disbanded, however the camaraderie and humour lives on, hopefully this web site will reunite former members and help keep those still "in the fold" keep in touch.

The site is just a bit of stupid fun really, rather like being in the club was........a bit of stupid fun.

Feel free to also contribute any "views" yourself by e-mailing me.