Steve Morgan Eulogy

By Phil Scammel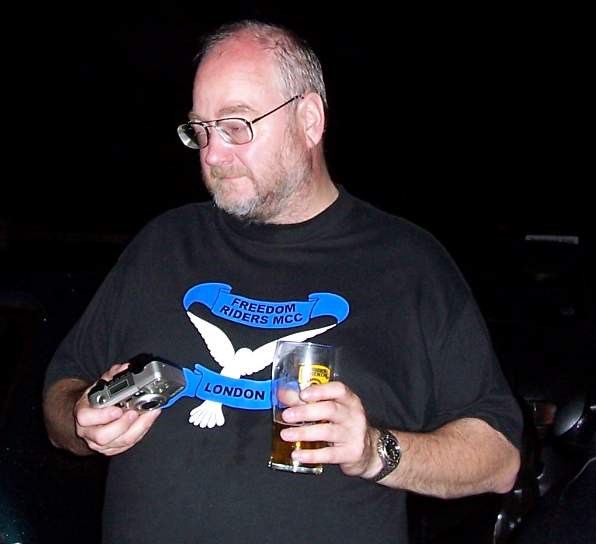 I have so many memories; it is rather difficult to know where to start, but I would like to read to you this short exchange of text messages between Steve and me soon after he went into hospital.
Me: Hi Steve, I hope you are feeling better now. I intend coming to see you tomorrow. Is there anything you need? Best wishes, Phil.
Then, after a few minutes, this six word reply:
Requirements: Fast car, ladder, wire cutters.
Ha Ha, I thought. Whatever else might be wrong, his sense of humour was still working.
I met Steve 50 years ago. He was born in St Bartholomew's Hospital in the City of London. His family moved to the leafy suburbs of Hillingdon in the summer of 1968 and Steve started at secondary school in the September; so that was where we met.
At school I remember Steve for among other things, lunchtime football in the school playground, with him eating his lunch at the same time, and his natural ability in mathematics. When the time came for us to leave school after 'A' levels I thought he would continue the mathematics at university; he'd been offered a place at Warwick, one of the leading universities in the subject but he changed his plans and went instead to study mechanical engineering at Brunel. I went to Sussex. This was 1975, years before mobile phones. And we were neither of us much good at writing letters. So inevitably contact faded for a while, but resumed after university.
Steve went straight into work after getting his degree. I counted 8 jobs in his career. He made significant contributions, more than I can describe here. But I would like to share a couple of the engineering highlights. He worked for the French civil engineering company Freyssinet on the world's first floating oil rig. This was to operate in the deep waters of the North Sea. Nowadays there are dozens of these types of platform in use around the world, but this was the first.
For British Maritime Technology he did the wind tunnel tests on models of the bridge design that was to become the QE2 Bridge carrying the M25 over the Thames at Dartford, and which at the time of its construction was the longest cable-stayed bridge in Europe.
He also travelled, primarily for Edwards, going to Japan and to the USA to train his colleagues in product safety regulations.
His last role was Product Safety Manager for Thales, guiding his colleagues in the art of designing for safety, and producing documentation to satisfy the regulatory authorities. His diligence and attention to detail has been marked by Thales creating an annual 'Steve Morgan award for excellence in Product Safety' in his honour.
Steve insisted on 'getting it right'. He often spent long hours in the office. Not just that, he also commuted long distances between his home in Hillingdon and variously Fleet, Northampton and Crawley. I don't know how he coped with the drive every day to and from Crawley on the country's busiest motorways, the south-western section of the M25 and the M23, but he didn't half moan about it during our regular Friday nights in the pub. John, Mick, Neil (also sadly no longer with us), and me just listened.
And while all this was going on, he found time to study part time at Lancaster University for a Master's degree in safety engineering and to achieve professional registration as a Chartered Engineer.
Steve had interests outside work, of course. Motorcycling, and later steam fairs were high on the list. He had passed his motorcycle and car tests while still at school and was always particularly interested in motorcycling. He used a bike a lot as a student. I think this was always really his favourite mode of transport. He was happiest when on two wheels. He joined the Freedom Riders motorcycle club in West London and formed many lasting friendships through that. Though the club has dissolved, the friendships remain. ~
If I might continue the motorbike theme for a moment, there are a number of friends here today who will remember our moped racing projects in the 1980's. Around 1985 'Bike' magazine floated the idea of a moped endurance race. The idea was simple; run a 50cc moped round and round a track for 6 hours and at the end of that time, the team that has completed the greatest number of laps is the winner. Steve, Mick, Michelle, and I went to observe the first one somewhere near Birmingham in November 85. It was a very cold day. After a while it started to snow. We retreated to the nearest pub. As I recall, we agreed this was a particularly bonkers idea and we would be mad to entertain it. So of course we made plans to enter the next race, and I hoped it would be in the summer.
Steve chaired the enterprise and was team captain and chief mechanic on race days. I think he would have loved to have raced himself but he accepted that a 50cc moped with him on board was not likely to have a competitive performance. We started with one Italian Malaguti moped, and I think, but I'm not sure we came second in one of the early races. Later we progressed to entering two Suzukis but never repeated our early success. The Suzuki bikes were identical models and we had a brilliant idea to tune up one of them, so we could compare its improved performance against the other 'standard' version. We made it slower.
Steve was an organiser. Those here who remember the heaps of stuff in his homes in Hillingdon and later here might take issue with that remark. It is certainly the case that the garage was tidier than the house – a reflection of his priorities I suppose. Living by himself meant he could do as he pleased. And of course, any remark which he interpreted as an adverse comment on this state of affairs would immediately be met with "But I know where everything is." And he did, well most of the time. What I mean is that Steve was a natural organiser and leader of people. I said earlier he was a member of the Freedom Riders. Actually for a while he was Vice-Chairman. I've mentioned his role as Chairman of the moped racing syndicate. He organised most of our beer festival trips to Germany and of course the bi-annual trip with friends to the Isle of Man TT races. Shortly before he moved to Calne he was called for jury service at Harrow Crown Court. Guess who was elected foreman of the jury? Steve.
Steve's links to Heddington came initially through his friendship with Dave. Steve and a crowd of friends would come to the Steam Rally in early July; sometimes the experience was enhanced by a party at Dave's. The Rally became a firm event in the calendar every year. Later, when Steve and I jointly purchased an old lorry we used to bring that to the show as an exhibit. Dave, being aware of Steve's interest and considerable knowledge of motorbikes, invited him to be the judge of the motorcycle section for awarding trophies for the best or most interesting machines. Steve was to continue in that role right up to and including the 2018 show.
After several years of the lorry, Steve and I agreed that something quieter, faster and more comfortable was required. We replaced it with a Rolls-Royce Silver Shadow motor car and that too was an exhibit at the show every year we owned it. Eventually that got the better of us, requiring ever more expensive repairs and we sold it.
Steve moved to Calne in August 2017, in anticipation of retirement. This was not an easy decision, since his sister Jean and her family have homes in or around Uxbridge. However he had been able to arrange with his employers to do more work from home and to be based at their Reading offices, rather than at Crawley. This reduced the burden of travelling to work, at the expense of greater distance to his family. He had strengthened his existing friendships with people in the village here and had made new friends. He said to me that despite the distance separating him from his family, he was pleased he'd moved. People had more time, the roads were less hassle, and he just felt more relaxed here.
Like all of us I suppose, he could be awkward at times. He could be very funny and very witty, but sometimes very sarcastic. He was occasionally grumpy, but as a friend said to me very recently, he was our grumpy old 'so-and-so' and we were used to that and accepted it as part of the deal. And he was not always absolutely brilliantly perfect at saying 'thank you' to the right people at the right time and in the right way. But if you waited a bit, he would get around to it, even though it might then be a comment to someone else about how much he appreciated what people were doing. But these are very minor matters when set in the context of Steve's strengths. He was very supportive of Jean and a generous uncle to Lewis, Hannah and Owen. He was dependable, open, honest, and reliable. You could rely on him doing what he said. Friends recognised that. Friends stayed friends. That so many long-standing friends are present here today is evidence of that.
The speed with which Steve's illness overtook him was a shock. He was here in Heddington at the Steam Fair in July, doing all the usual stuff, judging the motorbikes. He attended another regular event, the Dorset Steam Fair, at the end of August, pottering around in the usual way. There was no sign then of what was to come barely three weeks later.
In September he went into hospital. After a while it became apparent that he was not going to get better and he expressed a wish to go home. Actually I remember he expressed that wish very forcefully. I began to wonder whether the requirement for wire cutters, a ladder and a car some weeks earlier was perhaps not the joke I had thought it was. Perhaps initially he did not appreciate the burden that decision imposed on those around him, but he did later and was very grateful for their support. Friends and neighbours helped the transfer happen smoothly and for the rest of his life he had peace and quiet and the privacy of his own home. We are all grateful for the care and support provided by the medical, nursing and care professionals, both at The Royal United Hospital in Bath and at his home. But I think Steve's quality of life towards the end was really due to the huge amount of time devoted by his good friends Dave and Pam, and most of all by the support of Jean, Lewis, Hannah and Owen. Their continuous love and care made his last days comfortable and peaceful. I pay tribute to them all.
It is a great sadness that Steve did not live to retirement. I am certain he would have enjoyed it. There would never have been any shortage of things to do, or places to go, or friends to meet.
We have lost a good man, a brother, uncle and friend. My life has been enhanced through his friendship. I am quite sure that without him, I would not have had the same crazy experiences, fun and laughter as I did.
It was a privilege to have known him.
Footnote from Jeremy Knight who worked with Steve and read the above:
I worked in Quality at Edwards and shared an office with Steve for some years.

We were very similar in our outlook, interests, politics (yes!) etc. I enjoyed his sense of humour and somewhat cynical outlook on life.

In our respective disciplines we were always fighting for procedures to be followed, standards to be adhered to and so on.

Steve was much respected as a Safety Engineer as he rolled up his sleeves and got involved in the workings of vacuum pumps and took a common-sense approach to hazards and risks rather than just pontificating from an office on what international standards needed to be met.

Mind you, he could pontificate when he wanted to!