Colin Garrett
Colin Garrett AKA "Blob"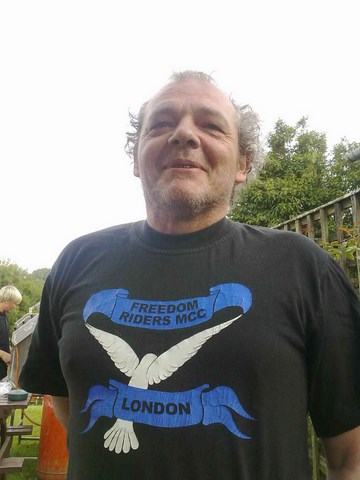 Colin now lives in Kingsbridge in Devon. He does not enjoy the best of health but remains cheerful. If you need to contact him at all best to contact the web master on this site.
Pictures From Colin Garrett
Freedom Riders MCC of Hayes and Ruislip
This is the Freedom Riders MCC web site.

The Freedom Riders MCC has long been disbanded, however the camaraderie and humour lives on, hopefully this web site will reunite former members and help keep those still "in the fold" keep in touch.
We have a reunion every year in, of all places, South Devon but that was where the club "went on holiday" each year and over time many members have left west London so the location of the meet up each year really does not matter. Four members actually now live in Devon, others have moved as far away as Canada.
The site is just a bit of stupid fun really, rather like being in the club was........a bit of stupid fun.
Feel free to also contribute any "views" yourself by
e-mailing me
.